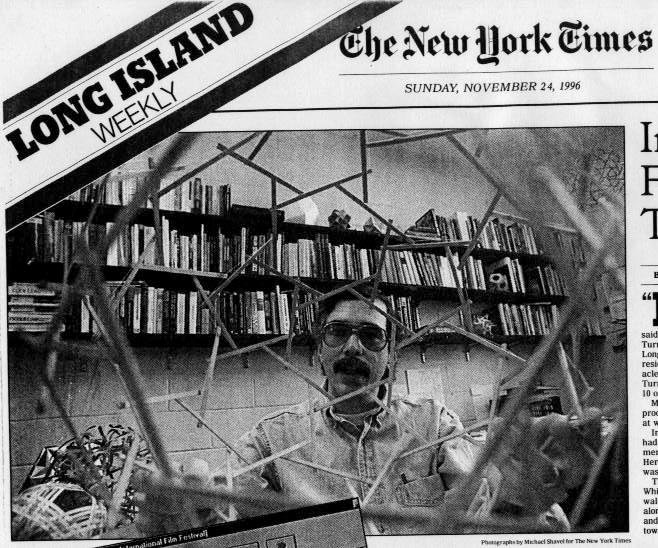 This is just a vanity page of various citations of my work. Above is a nice photo (by Michael Shavel) shot through a tensegrity structure, which appeared in the New York Times a few years back, when I had more hair. My tensegrity structure web page was cited in Science News (Oct. 2, 1999, p. 46). (For another mention in the Times, see the art review by Helen Harrison, Aug. 1, 1999, p. 8 of the LI section.) And there's a picture of me with one of G4G sculptures (Compass Points) in The Atlanta Journal-Constitution, March 19, 2014, p. D6.

Discover Magazine features my sculpture SuperFrabous in the April, 2014 issue, p. 37.
My sculpture/puzzle

Frabjous

was selected by Games Magazine as one of the top puzzles for 2012. This is a plastic snap-together version of my one-of-a-kind wood sculpture,

Frabjous

. I designed the plastic version as a gift-shop item for the Museum of Mathematics.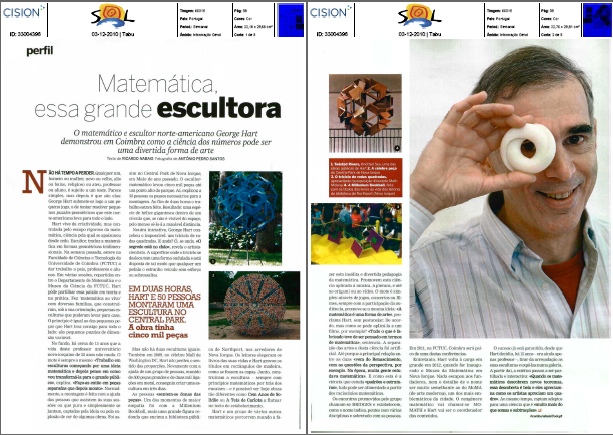 Above is an article that appeared in the Portuguese newspaper SOL (Dec. 3, 2010, p. 38-39) after I visited Coimbra and gave two talks and two workshops at the University and Science Museum there. A readable pdf version (assuming you read Portuguese) is available here.

Below is an article about my work printed in Games Magazine (Sept., 2009, pp. 66-67). A readable version is available here and here. The author, Tom Cutrofello, packs into two pages a quick mention of many things I have worked on, including puzzles and sculpture, and a trip to Burning Man.

Below is a wonderful article by Ivars Peterson that appeared in Science News (Dec. 22, 2001, pp. 396-398) The full text is available here. It summarizes a number of topics, including symmetrohedra, which I worked on with Craig Kaplan, and blending polyhedra, which I worked on with Douglas Zongker.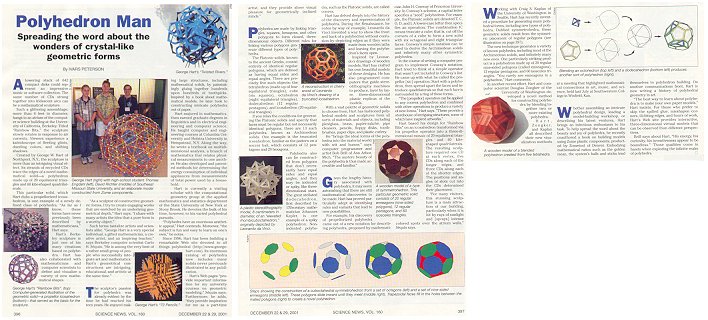 And below is an article that appeared in the July 2008 issue of Pour la Science, which is the French equivalent of Scientific American. It describes examples of works by Bathsheba Grossman and works by me, including a sculpture I made in Atlanta and a sliced Menger's sponge. A readable version is available here. (There are also photos of the Atlanta sculpture and its assembly in the Sept./Oct. 2008 issue of Skeptical Inquirer., in an article "The Eighth Gathering for (Martin) Gardner" by Ray Hyman.)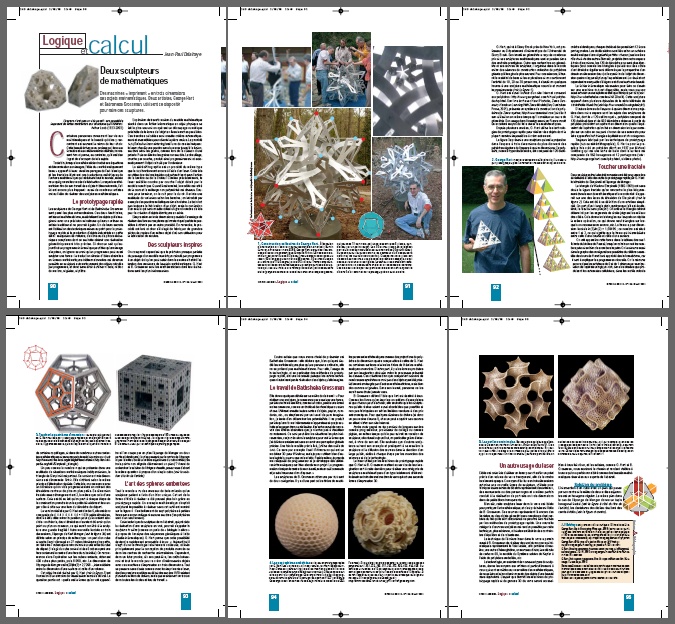 At right is a blurb that appeared in Science (Oct. 1, 1999, p.7). It shows my computer-generated model of the compound of two great retrosnub icosidodecahedra. This compound was first described in a mathematical paper by John Skilling in 1976, but no one had ever made a model or seen what it looks like until I made this image about three years ago.

At the bottom of my web page about uniform compounds of uniform polyhedra, I described this polyhedral compound and put out a challenge for someone to make a paper model of it, saying I'd buy them a beer if they completed it. After three years, I heard from Jonathan Bowers of Texas that he constructed one. He sent me a nice picture of it, so I owed him a beer. However, he doesn't like beer. He drove it to a conference in Kansas where I got to see it, and we enjoyed a root beer together.
At left is a computer-generated image called Apples and Oranges from my Pavilion of Polyhedreality, reprinted in Yahoo! Internet Life magazine (Nov. 1999, p. 86). That was a special "Lingerie Issue," so you might have skipped right past this brief item about my work. They brightened it up a bit; I prefer it gloomy, as if this is what the fruit do at night. For a high-resolution image, see my Apples and Oranges page.

Incidentally, the origin of the phrase Apples and Oranges is interesting. I searched extensively and found nothing on my own, but James Folmer recently found for me a source indicating that the phrase appeared as apples and oysters in John Ray's proverb collection of 1670. Maybe now I'll have to make something with oysters.
| | |
| --- | --- |
| My trilobite cookie recipe has been popular among cookie people and fossil people since I first put it on the web in 1995. I get lots of interesting email about it, and it has been reprinted in such widely read publications as the North Dakota Geological Survey Newsletter (Summer 1999) and the Newsletter of the Kentucky Paleontological Society (August 1999). At right is a citation that appeared in the U.K. daily, The Guardian (Aug. 5, 1999, p.4 of the Online Section). It is also mentioned in the May 2001 issue of Natural History Magazine, p. 86. | |
For those of you who can read Dutch, this article about my sculpture which appeared in Arthesis (Juni/Juli, 1999) is no doubt very interesting. The title is a combination of the Latin Ars and Mathesis meaning Art and Mathematics.

Here is another article in a September 2000 Dutch publication.

| | |
| --- | --- |
| And if you read Finnish, this article in the magazine Tiede (Oct 25, 2001, p. 12-13) shows one of my 3D printing sculptures, Deep Structure. | |

Or if you prefer French, above is another very nice article about my sculpture. By Benoit Rittaud, it appeared in the French magazine Tangente. (The Dec 2000-Jan 2001 issue, pp. 34-37.) The same article is reprinted in a French book Culture Maths, Editions de Seuil, 2008, which contains "choix d'articles de la revue Tangente."

| | |
| --- | --- |
| At right is a photo from The Smithtown News, July 20, 2000, showing a sculpture of mine at the Long Island Museum of Science and Technology. For a clearer picture of this sculpture, see my Chronosynclastic Infundibulum page. For another article about this piece, click here. | |
And here is a very nice article about the assembly of my Millennium Bookball, which appeared in The Long Islander's Record, (Huntington edition, Nov. 18, 1999). I like the analogy made to a barn raising.

Click on the image for a larger readable version.
About four months later came the short piece below about the completed Millennium Bookball. It appeared in Newsday, April 9, 2000.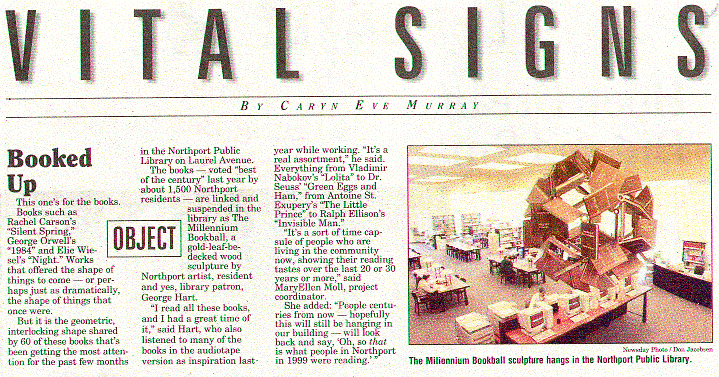 | | |
| --- | --- |
| | On July 9, 2000, this appeared in the Kidsday section of Newsday. That is a section which is written by a different class of students each week. This week, it was written by Mrs. Rumore's 5th grade class at Ocean Avenue school, Northport. |
And though I'm not sure where Medford is, at right is a clipping from a review in the Medford News (May 13, 1999) of a show of my sculpture at the Clayton and Liberatore Gallery in Bridgehampton. I don't mind that "Joan" made my head smaller than hers, but I must mention that the intended word "exude" has a very different sense than the word "exclude" which appears in print here. I don't know what an "assimblage" is, but at least they spelled my name right.

The CD sculpture illustrated with the article was not at the show by the way; it is Rainbow Bits at U.C. Berkeley.
This is a photo from a nice article in the December 2001 issue of FOCUS, which is the newsletter of the Mathematical Association of America. The article is about Mathcamp, which is a wonderful summer program for high school students who love mathematics and want to go way beyond the high school curriculum.

For the camp, I have been doing Zometool workshops in which we study three-dimensional and four-dimensional geometry while building fantastic models. Many of the activities are detailed in my Zome Geometry book. The photo at left shows me standing on a table putting a "flag" on the top of a house/structure based on a polar zonohedron. It was large enough to hold five students plus the pizza that they ordered and had delivered to it.






As artist-in-residence at MIT in Oct./Nov. 2003, I led a group of students to assemble a sculpture Salamanders. The MIT paper Tech Talk ran the article shown above the week I was there. Click the image above for a readable online version.

This was followed up by front-page photos (at left) of the resulting sculpture, and two more Tech Talk articles: the first about the sculpture barn raising, and the second about one of the talks I gave.
My popular 72 Pencils sculpture was featured in a new bilingual (English/French) quarterly magazine, Archimedes, which focuses on puzzles of all sorts. (vol. 1, no. 3, December 2003, p. 44.)

I am making the sculpture in a limited edition of 25 pieces, all of the same geometric form, but with each one unique because different pencils are used. The magazine shows two instances of it, one with classic yellow pencils and one with pre-sharpened colored pencils.

More recently, a picture of it appears in Pen World magazine, January 2007, p. 28. Everything else in the magazine is about pens, not pencils, so they must have liked it a lot to include it.



| | |
| --- | --- |
| | Here is a blurb in The Observer (of Northport, NY, Dec 23, 2004) describing a large Sculpture Barn Raising I did at Stony Brook University. |
And on the heels of the above comes another

Observer

blurb (January 27, 2005) , which lists some of the places where I led groups in the assembly of my reconstructable

People


sculpture.





Here is a nice survey article which appeared in the

The Times of Northport,

January 5, 2006. I think the headline makes me sound dead, but I'm not (yet). Click here for a readable version.

Ivars Peterson's December 24, 2005

Math Trek

column for

Science News Online

discusses various types of mathematical models. Included are a couple of images of my work and the picture of me with a Sierpinski tetrahedron shown here at right. His article highlights material from a paper I wrote for the

Mathematical Intelligencer

.





Below are shots from two episodes of a TV show called

NUMB3RS

, which I am told is about a crime-solving mathematician. I've not seen it personally, but in the one aired in the summer of 2005, tickets are kept on his desk under a model of the 120-cell which I designed. You too can buy a copy of this famous mathematical model from Bathsheba Grossman's web site.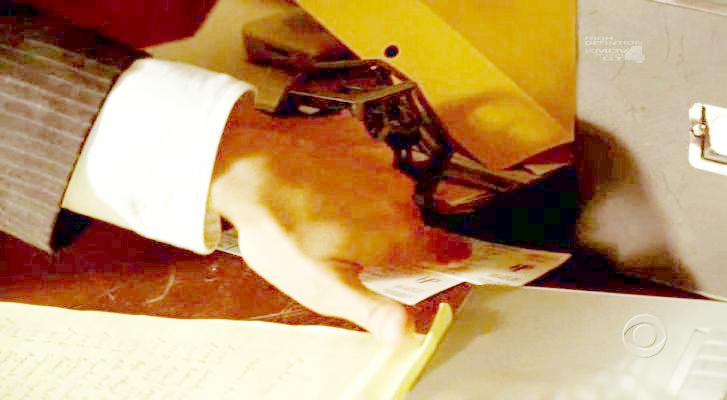 In another episode, aired in January 2006, this person is holding the 120-cell. I don't know what he is thinking: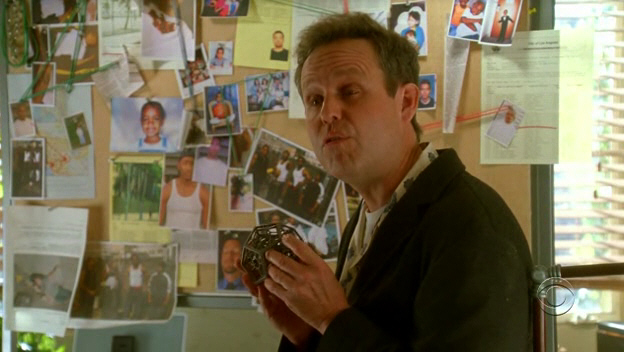 The November 5, 2006
New York Times
(New Jersey regional section) had a nice review of a group show in Newark that included a piece of mine. The sculpture,
People
, is not mentioned in
the text
, but they squeezed it into the photo: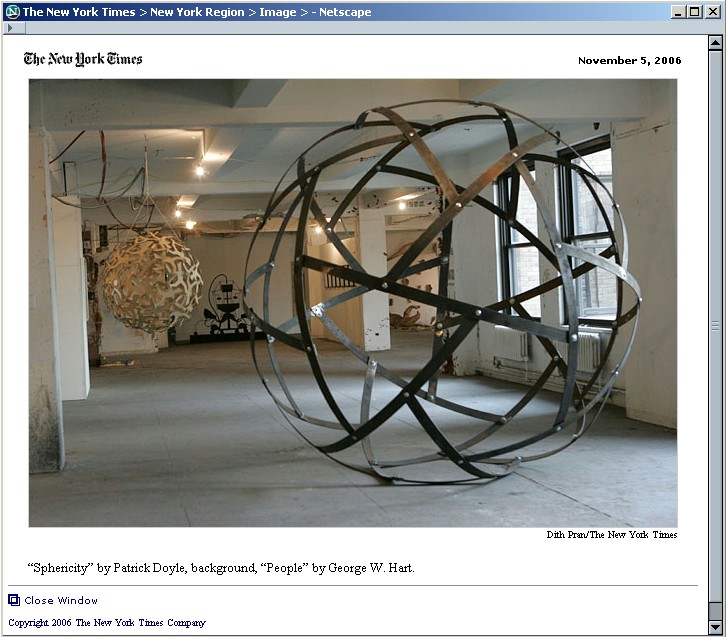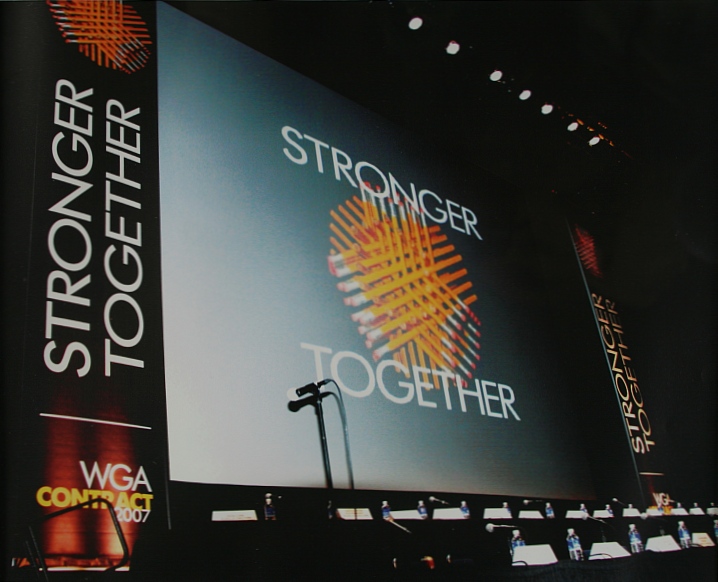 My

72 Pencils

sculpture was used as a symbol of writers' unity during the 2007 Hollywood writers strike.
Above is a shot of it displayed at a Writers Guild meeting. Below is a button worn by strikers.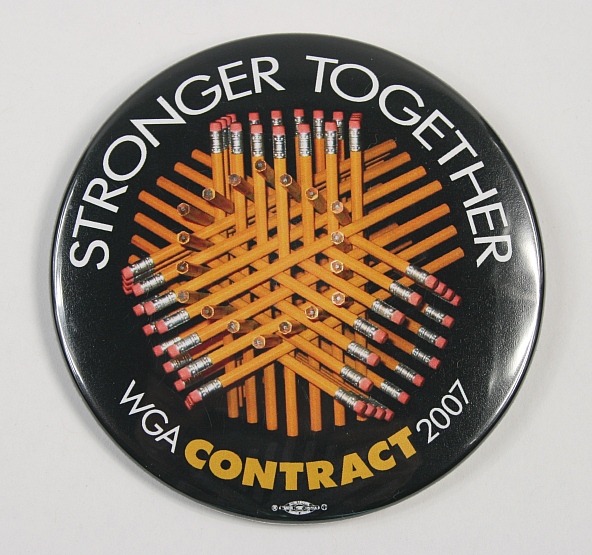 If you read Japanese, you can read this article that appeared in the Kyoto daily paper,

Asahi Shimbun,

on January 7, 2008. It reports on a CD ROM sculpture workshop which I led at the Kyoto University Museum. Details about the activity and additional photos are available here.




I gave a talk at
Dartmouth's Mechanical Puzzle Day
, and the above article came out the next day on the front page of the Feb 20, 2008
Valley News
, a daily paper for the upper Connecticut valley in NH and VT. There was also
a front-page story in

The Dartmouth
. And also
this
in
Vox
.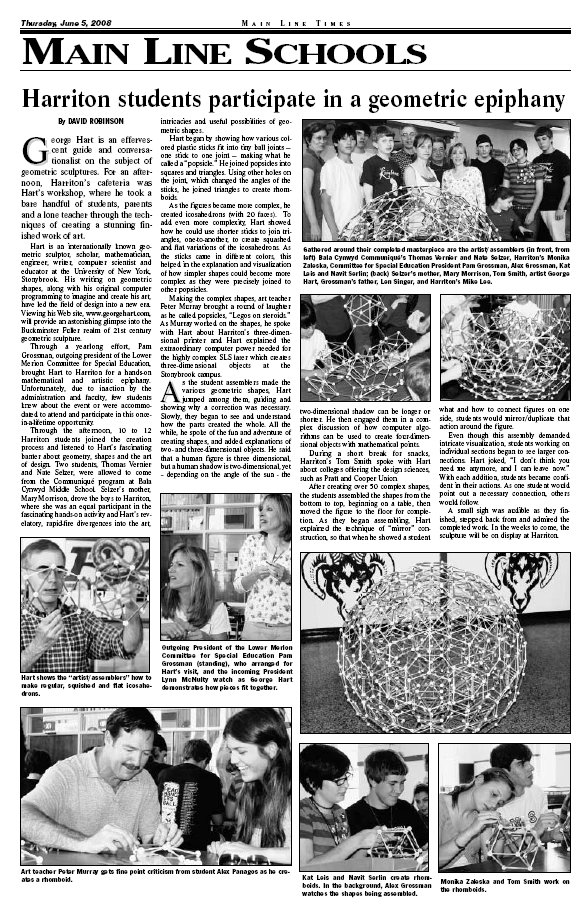 Here
is an article in the
Main Line Times
about
a workshop I did in Lower Merion, PA
.
Two of my sculptures were chosen to appear on the cover of this Shape Modeling International conference proceedings. These are Echinodermania I and Echinodermania II. My paper about them in the proceedings is available here.

And my sculpture

Mermaid's Delight

was used on the cover of the conference program schedule, shown below. The cover designer, Tony Scarlatos, adapted it so the form appears to be made of sand.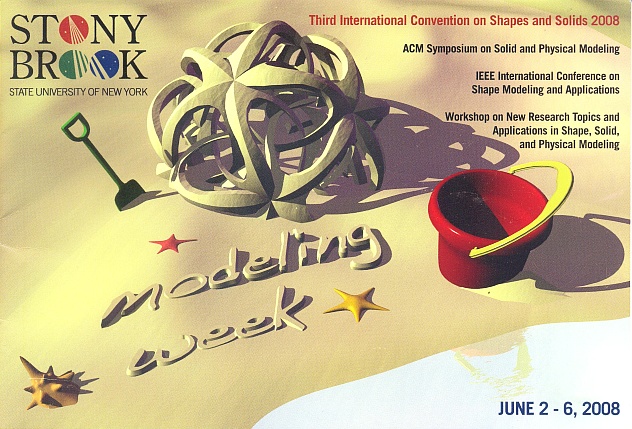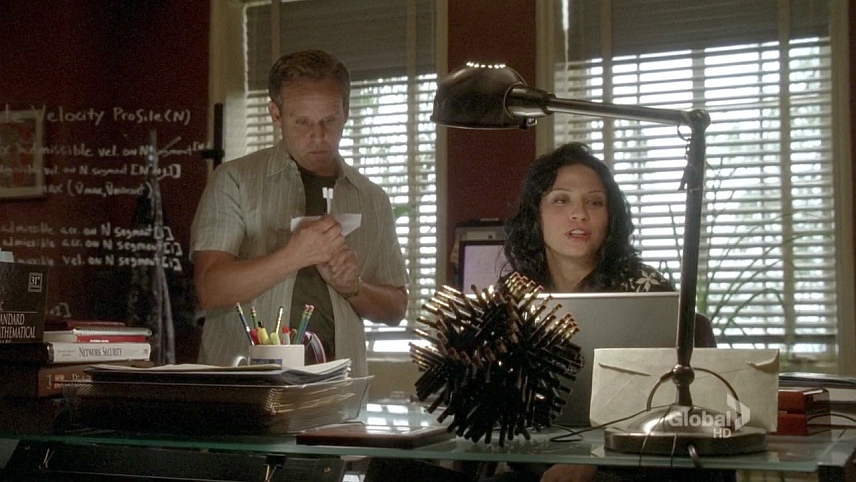 My work appeared on NUMB3RS again in the 2008 season. They used my
72 Pencils
sculpture, above.
Here
is a video clip.
---


My sculpture Frabjous appears on the cover of this engineering math book: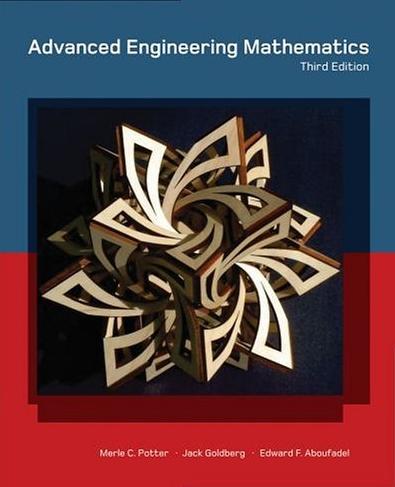 Images of "wobblers" that I made appear in John Sharp's book

D-Forms: Surprising New 3-DF Forms From Flat Curved Shapes,

(Tarquin Publ., 2009)






Instructions for making these wobblers are printed in:
G. Hart, "Two-Cent Wobbler," Make Magazine

,

Vol. 15, Aug 2008, p. 136.
---
Other Citations
I should mention that my web pages are listed in the online version of the Encyclopedia Britannica as a source of further information on polyhedra after reading their material. Similarly, in the Microsoft Encarta and many other references. By convention, I should no doubt continue by listing the web sites and indexes that honor my pages as "four stars" or "best of the net" or such. But those honors pale in my mind compared to the greater honor of having been chosen as one of the first to make the Geek Site of the Day.

Finally, I will add that I am mentioned in a Feb 27, 2001 paper in the Proceedings of the National Academy of Sciences which presents strong evidence for life on Mars. The unique shape of an Martian magnetite crystal appears to be explainable only if bacteria lived on Mars 4.5 billion years ago. I am not part of the NASA research team that wrote the paper---I was just involved in the discussion of what to name it: the truncated hexa-octahedron. But it is exciting that a geometric form could be of such importance. More details here.